Christmas Cruising on the Picturesque Danube
If you haven't cruised the Danube River during Christmastime, I highly recommend it! I recently returned from a 9-day voyage through Germany and Austria to Prague, and I'm definitely feeling in the holiday spirit! Yes, it's cold there too in December, but the magnificent architecture and churches – which I will write about later – and the Christmas markets make it all worthwhile.  I loved that their sprawling markets, with dozens of vendors, are located in the heart of some of Europe's most beautiful cities. The backdrop of 15th and 16th-century architecture – and even older – makes the experience truly unique.
Historic Old Town Square Market, Prague
This image, above, truly captures the atmosphere of the historic Old Town Square Market in Prague, with the 14th century Church of Our Lady Before Tyn looming in the background. The cobblestone streets, horse-drawn carriage and numerous stalls are set against the backdrop of that magnificent church with its 80-meter-tall towers!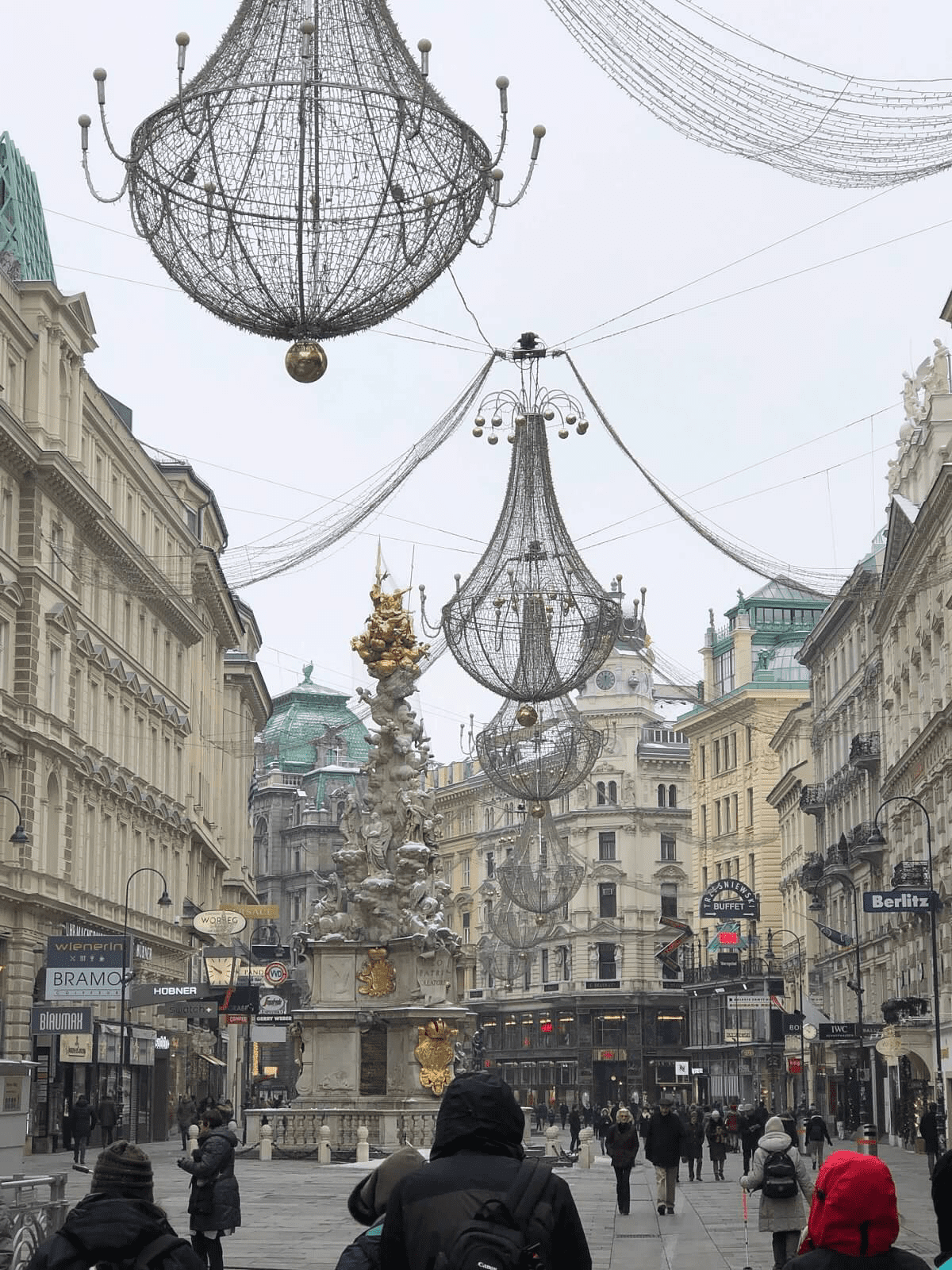 Al Fresco Chandeliers
My friends and I discovered this stunning street scene in Vienna. Instead of traditional Christmas decorations, voluminous chandeliers are suspended overhead, which seems fitting for the grandeur of the gold-accented memorial in the midst of the plaza. Notice that there are no elaborate Christmas decorations here. In fact, I was surprised that most areas we visited were conservatively decorated for the holidays in comparison to the United States.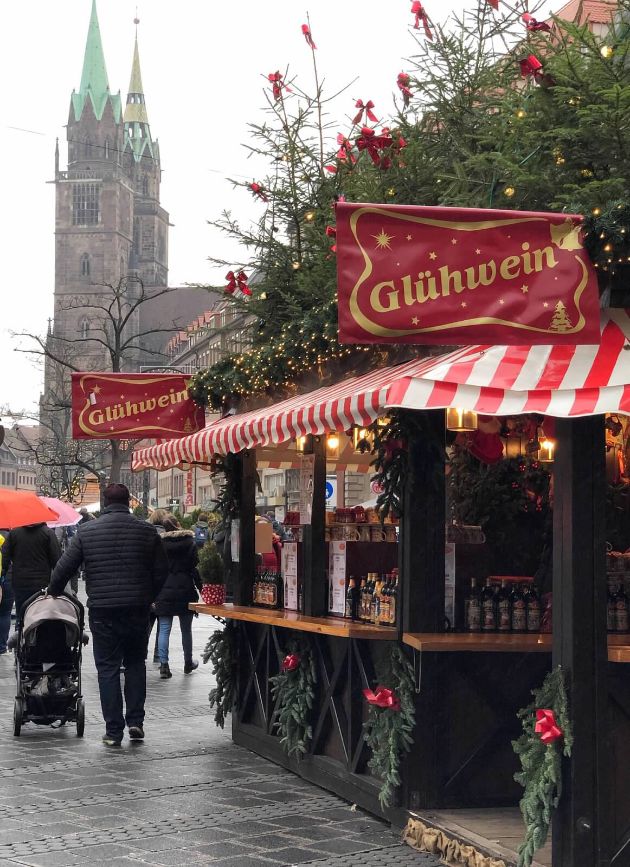 Mulling Over Some Wine
Every market we visited served warm, mulled red wine in a special mug painted with the market's name and logo for Christmas 2018. I have to admit, we indulged from time to time! Sausage and sauerkraut sandwiches are offered everywhere, too, as well as warm, yeasty pretzels.  Plus, the unusual pattern of the cobblestone street at this market in Prague was an inspiration.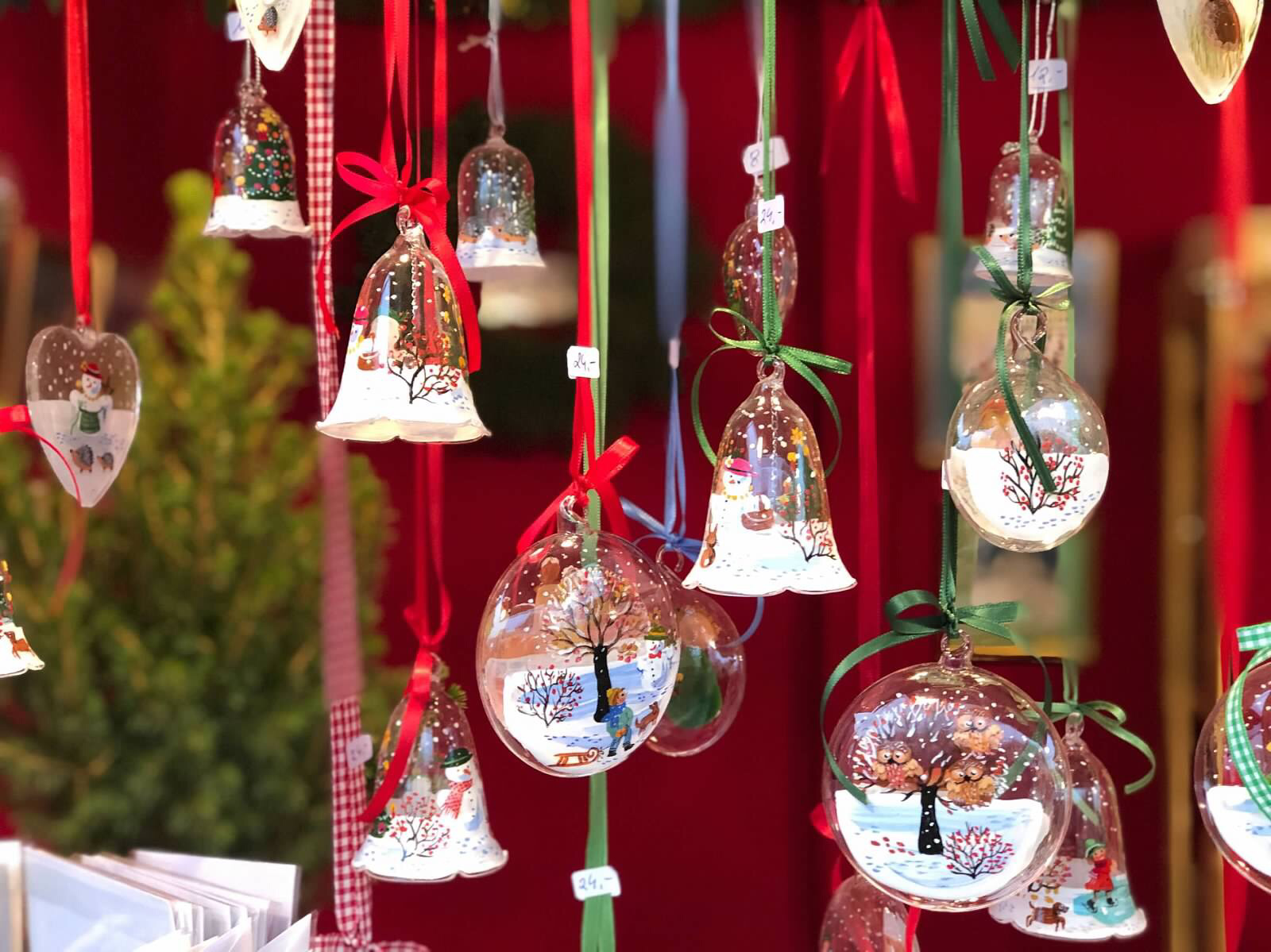 Hand-painted Delights
Hand-painted ornaments were just one of hundreds of items for sale at the markets. I found these delicately crafted ornaments at the Vienna market. You can count on seeing hundreds of snow globes, elaborate beer steins, woodworking pieces and woolen items as well, including warm woolen mittens. Didn't Julie Andrews sing about those?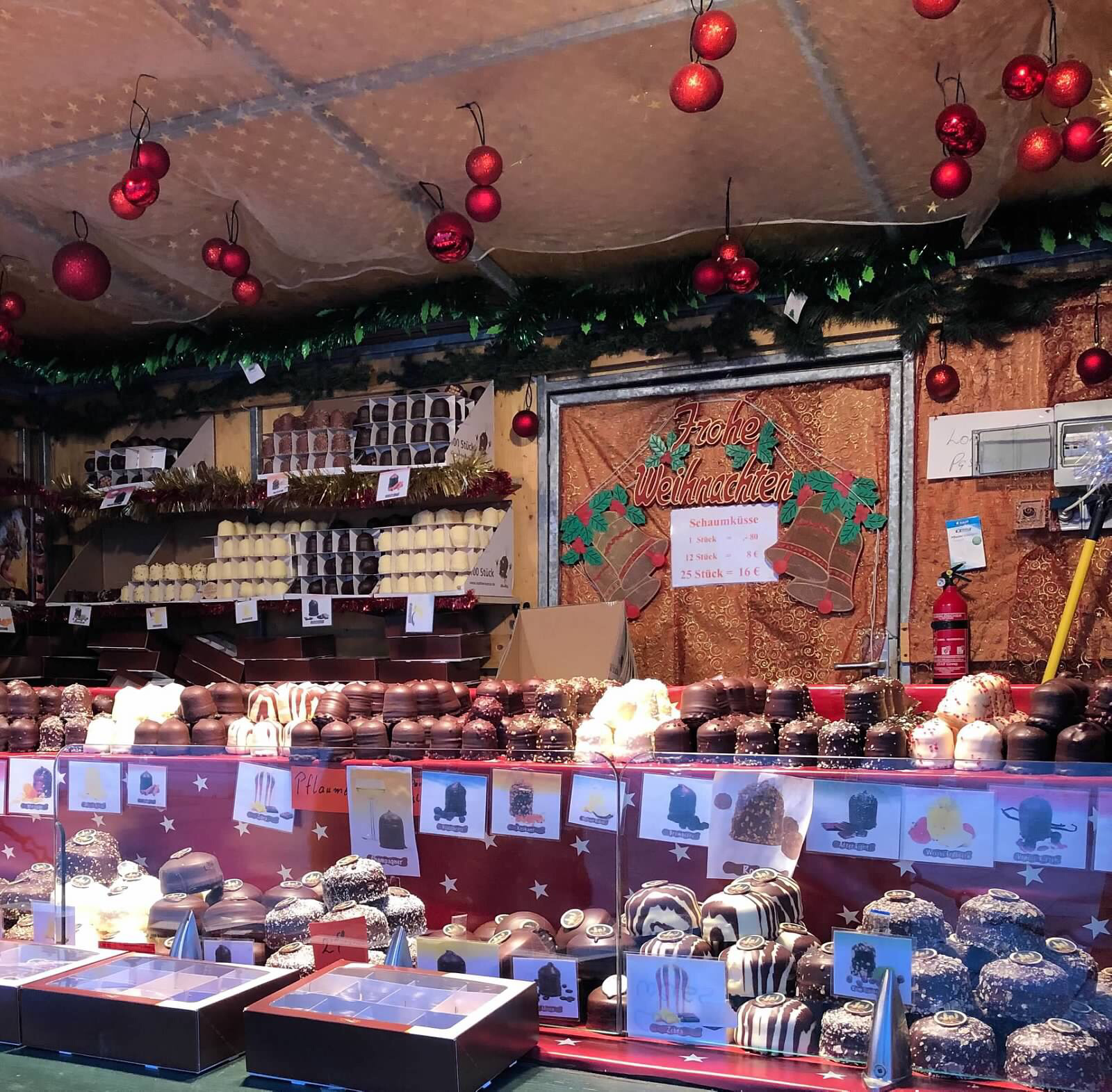 Visions of Chocolate
Who could go to Europe and not be tempted by the array of chocolates? I didn't have room in my luggage for all the treats I would have liked to buy!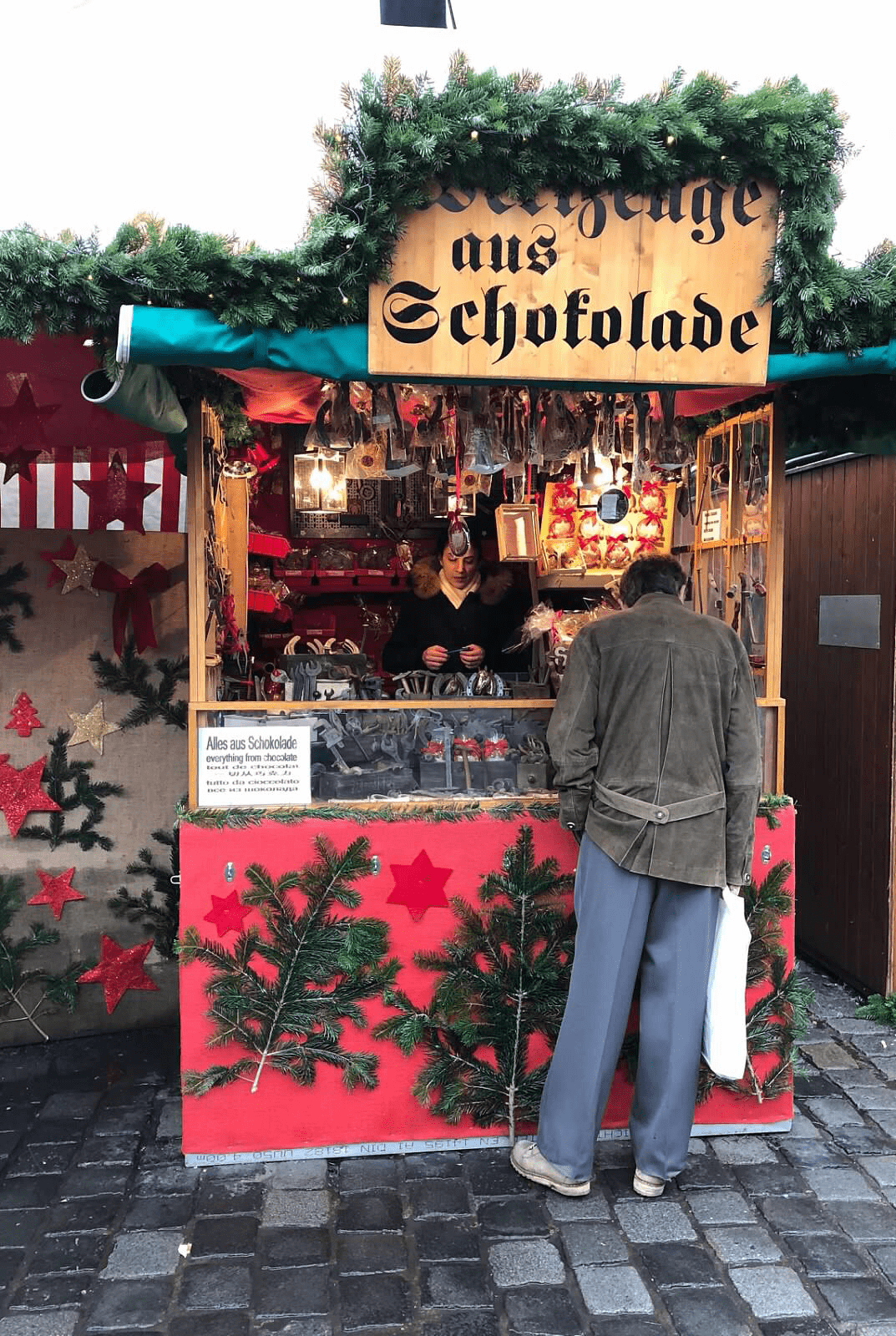 Cobblestone Inspiration
Traveling is always a source of design inspiration for me. The cobblestone streets we encountered at the markets were just one element that caught my eye. Here, the light and dark grays are reminiscent of one of our major color trends here in the States. I also saw a beautiful gray and caramel combination that my team and I like. How fascinating that someone was mixing those colors 400 years ago to create a cobblestone street, and we still appreciate it today.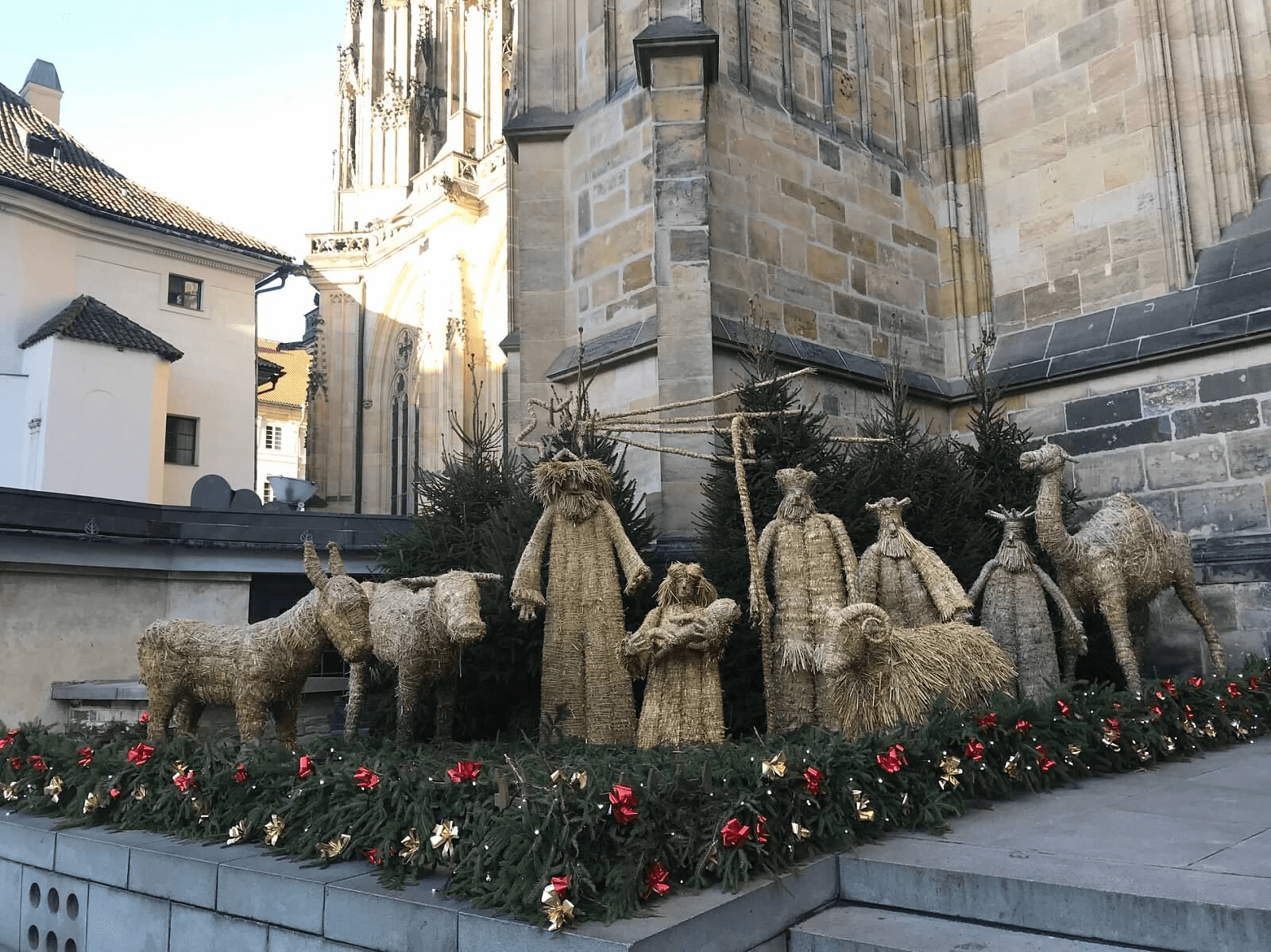 Nativity Scene, Prague Castle
Christmas wouldn't be complete without a nativity, and this one felt special because it is so unusual. The figures are made from straw, symbolic of the manger, and it is located on the grounds of the awe-inspiring Prague Castle. The primitive quality of the scene has an authentic, serene quality that is thought-provoking, too.
Exploring the Christmas markets was such an interesting and delicious experience.  I hope you enjoyed this mini-tour!
https://interiorenhancementgroup.com/wp-content/uploads/2018/12/spotted-horse-church-Prague-market.png
1600
1069
Kelly Guinaugh
https://interiorenhancementgroup.com/wp-content/uploads/2021/04/Interior-Enhancement-Group-est2020-630.png
Kelly Guinaugh
2018-12-14 09:20:24
2020-02-06 10:33:29
Christmas Cruising on the Picturesque Danube