Elevate Your Space: Choose the Right Rug(s)
You may not believe this, but spring or early summer is the time to order a new custom rug if you want to enjoy it during the 2021 holidays! It's true. While most people are thinking about summer vacations and lazy days at their lake homes, at IEG we are preparing for the winter holidays for our clients. But I always say, good things are worth waiting for!
Why Choose a Custom Rug?
Custom rugs make a huge difference in a room. We can get exactly the right size and shape for your space and the furniture, even if the space is irregular. We can complement the colors of the rug precisely to other furnishings in the room. In fact, my team and I have pulled colors from the Arizona desert and from a client's favorite piece of art and woven them into gorgeous rugs. You could spend weeks searching for a rug with colors like that and never find the right shades. With a custom rug we can also select the type of fibers and details such as borders, bindings and corners. All of that means that your rugs will reflect your personal style and blend into your home beautifully.
Check out these custom rugs, below. We designed them for clients in the Chicago area and out-of-state. Maybe they will spark some ideas for updating rugs in your home! Just leave the details to us, and you can still enjoy the gorgeous weather ahead.
Some Like It Bold
No surprise – this client loves red, and she wanted to go all-in for her eye-opening breakfast room. We designed the pattern and chose the colors in collaboration with www.kravet.com, and then we pulled the vibrant red color into the window treatments. This rug would put me in a festive mood all year long. Can't you feel the energy? For dining and breakfast rooms, we recommend rugs with a low pile and dense weaves. They don't collect crumbs as easily as a deep pile rug, and they make it easier to move a chair in and out. Of course, spills are almost inevitable, and they are easier to clean up on a low-pile rug, too.  I am often asked how large a rug should be. For dining and game tables, the chairs should fit entirely on top of the rug, even when pulled out. We recommend two feet-plus for the chairs and then we increase the size of the rug from there to fit the space best. We don't want your rug to look too small in the space.
Mixing Shapes
The rule book says to put a square rug under a square table, but in design playing by the rules isn't always the best choice. Game tables are for play, right? So we went for a playful look with a round, wool and silk rug from Davis Rugs. The pattern and colors complement the adjacent sitting area rug, because we wanted to blend the two areas of the great room. Notice the subtle mix of patterns, too? I love the random pattern of the rug with the structured, repeating pattern of the chairs. Here again, we chose a short pile and chairs with rollers for easy ins-and-outs.
Opting for Texture
Casual family rooms are a great place for organic, rich textures. For this local client, we chose a nubby, neutral rug from Feizy to set the tactile tone for the space. The thicker fibers and weave are echoed in the lumbar pillow, and they contrast with the smoother finish of the ottoman.  We always take into account the shape, size and purpose of a room when choosing a rug.
Channeling Delft Blue
The delicate blues and whites of classic Dutch earthenware come to life in this custom rug from Julie Dasher Rugs. It is  one of the first things that guests see when they arrive at my client's suburban Chicago home,  so it sets the elegant, tranquil tone that we carried throughout the house. In this case, we felt that selecting a round rug beneath a round table would be consistent with the home's peaceful mood. To accessorize, we chose understated pieces that draw out the soft white of the rug.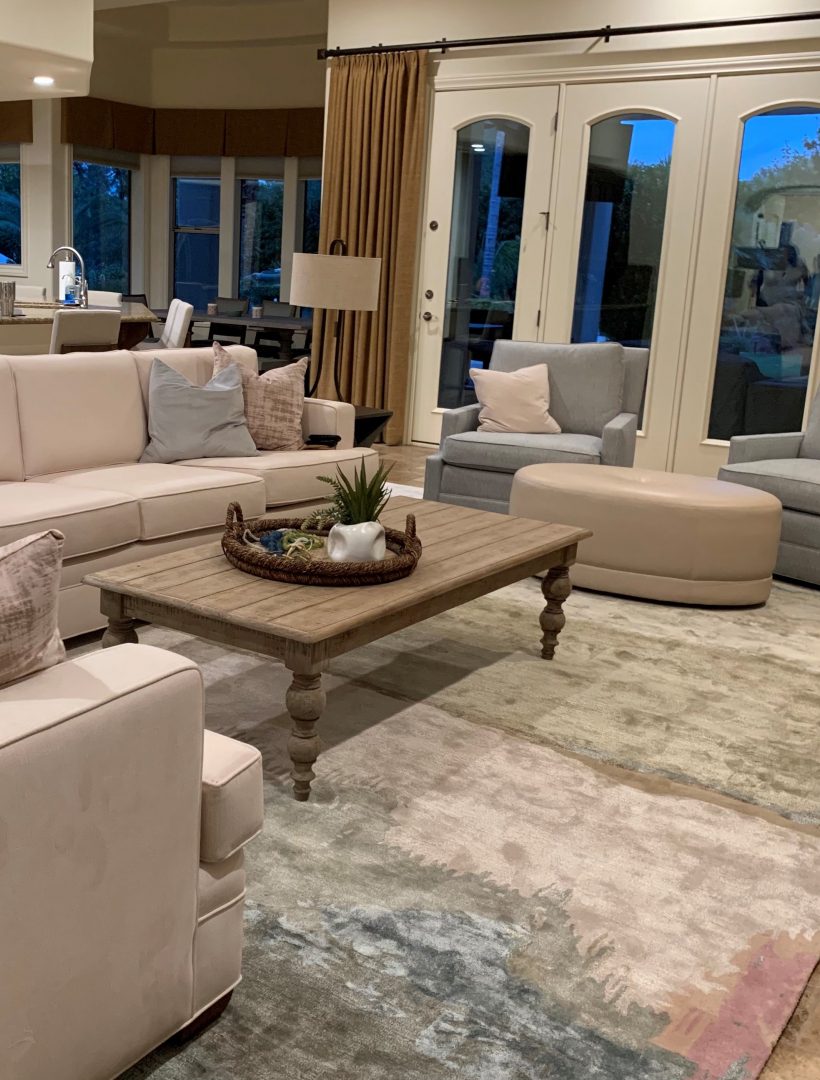 The landscape outside your windows can be a great source of inspiration. Photo by IEG
Bring Your Environment Inside
These Arizona clients wanted subtle elements of the desert environment surrounding their second home, so we incorporated those delicate pastels into this water color inspired rug from Jaipur.  Doesn't that softly blended palette give the room a relaxed, vacation-like feeling?
Layering Rugs – We've Got You Covered
Sometimes choosing just one rug is like eating one Ghiradelli chocolate square – I crave another! Luckily, there are a lot of good reasons to layer on the rugs. Sometimes we want to add interest and highlight a piece of furniture, as in this office, above. By placing a dark, irregularly shaped   cowhide rug from Surya  on top of the lighter, rectangular rug from Jaipur, we draw your eyes directly toward the desk and chair. And doesn't that extra layer make this space feel cozy?
Remember, now is the time to think about updating rugs for the holidays. Ready to chat? Contact us at 847-705-9569.
https://interiorenhancementgroup.com/wp-content/uploads/2021/05/1027_15.jpg
1367
1367
Kelly Guinaugh
https://interiorenhancementgroup.com/wp-content/uploads/2021/04/Interior-Enhancement-Group-est2020-630.png
Kelly Guinaugh
2021-05-06 19:00:18
2021-10-12 13:16:57
Elevate Your Space: Choose the Right Rug(s)