5 Best Upgrades as We Safe-Distance
Are you ready to update your home, but don't want a lot of workers in your house? We get it! Most of us are being more cautious these days, but we still want to get things done. You don't have to do a lot of construction, painting or refinishing to achieve a new look. I have compiled a list of projects that will give your home maximum impact while minimizing worker hours.
Easy Ideas for Your Great Room
Let's start in the great room. You are probably spending more time than ever in that space. Have you noticed that the sofa and chairs aren't as firm and supportive as they used to be? How about one of those combination ottoman/cocktail tables or a foot-pampering rug? We can work via video calls or in-person at your home with masks and safe distancing to choose pieces that not only make you more comfortable but give your family room a fresh look. We will send you images of options and set the wheels in motion. No major construction work, just delivery and pickup via workers we trust to be conscientious about safe practices in your home.
High-Impact Dining Room Ideas with Minimum Contact
Now is the time, when you are probably not entertaining as much, to replace or reupholster the dining room chairs and/or choose a new rug, chandelier or piece of artwork. A few changes can completely alter the look of a room, such as this dining space above. With tufted fronts and nail-head outlines on their backs, the chairs provide visual interest from every angle, and the oversized oval chandelier is a scene-stealer. The rectangular dining table facilitates conversation and allows for two head chairs at either end. If we start on your dining room now, you will be ready in time for the holidays, when hopefully, we will be celebrating with family and friends.
It's All in the Details: A New Look with Accessories
Have you ever updated a dress or sweater with new accessories? It's one of my favorite ways to make an outfit look new, and we can do the same in your home. One of the secrets is to combine a mix of textures, colors and materials as we did in the kitchen above, to create an unexpected and compelling arrangement. The same concept of mixed elements can be combined for a more elegant look, as below.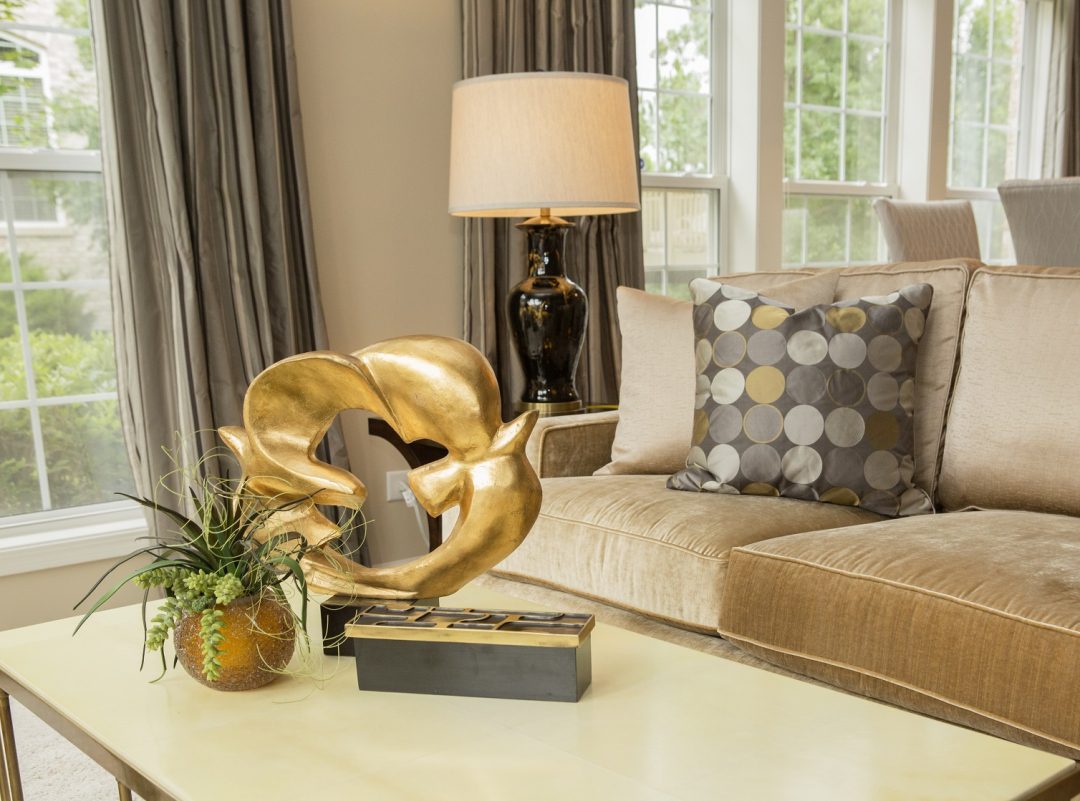 To start an accessory makeover, we would schedule a video-based tour of the rooms you want to accessorize, discuss your style preferences and then you can let us do the shopping, curating and combining! We can send you images of items for approval, arrange delivery and you can decide whether you want us to install them or we can leave that up to you.
Turn Your Master Bedroom into a Dreamy Retreat
Now that we're spending more time at home – often in our home offices – the master bedroom has become increasingly important. These private spaces must energize us as we begin the day, relax and rejuvenate us at the end of the day, and perhaps provide a midday respite with a cup of coffee and a few moments of quiet contemplation. That's a tall order for one room, but we can help! Together we can transform your space into a dreamy retreat by selecting new bedding and pillows, nightstand lamps or a new bench or chairs for your sitting area. Our clients for this master bedroom above prefer subtle colors, patterns and textures but they also love elegance and drama. The extra-tall nightstand lamps flanking the bed provide that drama – they put an exclamation point on the beginning and end of each day.
Optimize Your Child's Study Space
Are the kids going back to school? Maybe, maybe not – but either way, an inviting, designated spot to study will help them focus on their homework. Whenever we work on children's spaces we like to involve them in the decision-making process, with their parents' input, of course! With children's furnishings too, it is important to select pieces that will grow with them, requiring only an update of accessories to keep pace with their rapidly changing tastes.
Would you like to chat about the best updates for your home as we social distance? You can contact me at (847) 705-9569.
https://interiorenhancementgroup.com/wp-content/uploads/2020/07/3-Copy.jpg
720
1080
Kelly Guinaugh
https://interiorenhancementgroup.com/wp-content/uploads/2021/04/Interior-Enhancement-Group-est2020-630.png
Kelly Guinaugh
2020-08-03 08:02:00
2020-08-03 08:02:00
5 Best Upgrades as We Safe-Distance