Giving Thanks: Your Home, Your Style
Thanksgiving is a celebration of gratitude. It is a time of joy, a time of tradition. It is a time when families and friends across the country come together to share love, memories, and an abundance of delicious food. But most of all, it is a time to give thanks for our blessings and instill hope for the future.
The Thanksgiving holiday means something different to everyone, and we all celebrate in our own special way, with our own cherished traditions. We set our Thanksgiving tables with personal style and treasured heirlooms that have been passed down for generations. And we celebrate with heartfelt family traditions that are meaningful only to you and yours.
Signature style and great design come in many forms. It is a personal expression of home—transcending taste and visual rules—and a reflection of those who dwell within. My team at Interior Enhancement Group takes pride in bringing your visions to life, and it is our privilege to interpret each client's preferences in the best way possible. Listening is key and always top of mind.
For some Thanksgiving inspiration, we've put together a collection of dining room styles that we created especially for our clients. Along with these dining spaces, we have combed the archives of our creative influencers for tabletop ideas that complement each style. Our aspirational ideas include centerpieces, dinnerware, and place cards that will personalize your celebration and make all your guests feel warm and welcome.
CURATED LUXURY
The grandeur of this luxurious dining space speaks volumes with its sweeping floor-to-ceiling windows and elegant glass-railed staircase. Mirroring the aesthetic, a custom glass-topped dining table follows suit, appearing to float weightlessly over a hand-woven area rug that anchors the room and lends softness to polished porcelain floors. Upholstered dining chairs echo the serene neutral palette, providing cushioning comfort for lingering long after the holiday meal. Stealing the spotlight, a dazzling contemporary bespoke chandelier cascades from the ceiling.
What we loved about creating this space is that it is filled with natural light and connects seamlessly to the outdoor landscape. The open floor plan lends to the magnificence and luxury immediately felt when entering this home.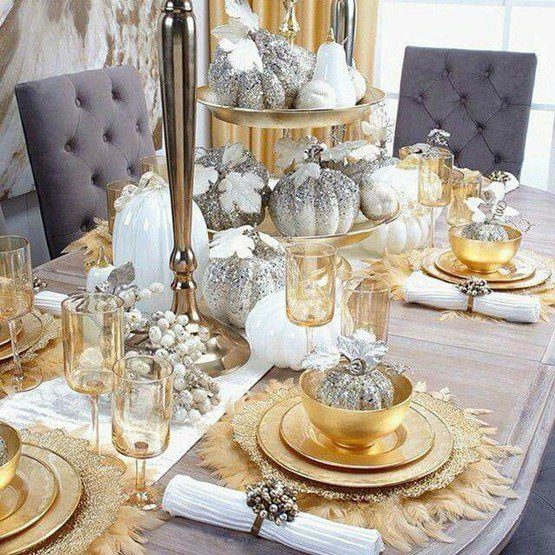 Luxury dining goes hand in hand with sparkling glamour, especially at your holiday table. Get creative with glimmering gold or silver tableware and gold or silver-tinted crystal that signifies a special occasion. Balance the regal look with white napkins adorned with bejeweled napkin rings. Fine-feathered place mats and shimmering chargers complete the look without overpowering the overall aesthetic. A tiered centerpiece stacked with glitter-encrusted miniature pumpkins mixes with glossy-white glass pears and squashes in varying sizes, radiating a festive Thanksgiving spirit.
If you prefer a more toned-down luxury vibe, create a clean tablescape that allows your room décor to take center stage. Here, the rich patina of an ebony-stained table captures the pared-down elegance of the space, along with the graceful silhouettes of the dining chairs. A crystal chandelier overhead creates a shimmering moment of drama, along with fine crystal stemware. Awash in glossy emerald hues—even on the ceiling—the room is wrapped in cozy color and tasteful refinement. Linens are used sparingly, with eggplant napkins providing a complementary
pop of color.
For a personal touch, consider using place cards, along with fine linen napkins bearing your family monogram. Your guests will truly feel welcome when they see they have a place at the table.
CASUAL ELEGANCE
The versatility of this dining room style is what appealed to us, as it can be dressed up or down, depending on the occasion. Hand-crafted wooden built-ins, a custom wine cabinet, and a gleaming dark-stained dining table provide classic lines that impart traditional elegance. Yet, the textural limestone fireplace surround and stone over the mantel, along with the stone inlay work on the arched entrance to the kitchen, lend a wonderfully casual counterbalance—hence, casual elegance. A round area rug paired with the dining chairs' curved edges softens the table's square lines and defines the space. Neither formal nor informal, a sculptural contemporary chandelier provides a splendid conversation piece that works with multiple décor styles.
Crisp linens in neutral hues and a fresh floral centerpiece of white roses set the tone for this simple yet elegant tablescape. White pumpkins, candles, fine china, and clear crystal align with the serene color scheme, and gold chargers, candlesticks, and flatware create a glimmering contrast without overpowering the look.
For a variation on the same neutral theme, nix the tablecloth and let the raw beauty of natural wood counterbalance your elegant tableware. Shimmering gold and white dinnerware creates beautiful layers atop gold chargers and intricate gold placemats featuring a floral design. Gold-ringed white napkins finish the look in softness, complementing the luminous pearl-handled flatware.
Golden pear ornaments and stamped monogrammed place cards adorn each place setting with understated elegance. Each card is strung with twine, lending a casually rustic appeal. 
RUSTIC REFINEMENT
This charming kitchen dining space emits an air of rustic refinement, which was the look we wanted to achieve at our client's request. Dark-stained cabinetry, stainless steel, and a textural tile backsplash give the space an elevated sense of refinement, along with a black faucet fixture and a sprawling wrought-iron chandelier. A decidedly rustic wooden dining table befits the raw-edged upholstered chairs, and a long leather bench lends a sleek contrast that completes the aesthetic. Richly grained bare wood floors create another element of rustic refinement that balances the dark cabinetry and black accents.
Laced with white candles and glass-bottled bouquets, this inviting tablescape creates a cornucopia vibe that speaks to Thanksgiving's spirit of abundance. Charcuterie boards mingle with the turkey platter and other accompaniments amidst a layering of fresh greenery that sprawls across a rustic wooden table. Place settings are sparingly dressed with simple woven placemats and patterned china, lending a free-spirited vintage look that is both relaxed and welcoming.
A white pumpkin bursting with fall foliage, flowers, and berries makes a wonderfully rustic yet refined centerpiece for your Thanksgiving table. Placed atop a slice of raw wood edged with tree bark, the piece pairs perfectly with amber and copper accents, votive candles, pinecones, and rustic autumn flora.  
For a splash of vibrant autumn color, this organically inspired knotty wooden bowl forms a delightfully textural centerpiece for your rustically refined holiday table. Filled with an array of fall fruits, including dark red and Pink Lady apples, the arrangement brims with white blooms and greenery.
For a quaint touch at each place setting, place a pair pinned with a name tag to designate your seating plan. A patterned napkin provides a soft landing and brings a pop of color to your tabletop.
BLISSFUL BREAKFAST
This light-filled dining space proved to be an ideal spot for a Thanksgiving breakfast or brunch. The room gloriously connects to nature by offering sweeping views of the landscape outside. We designed this space to do just that while keeping in mind that the area would also be used for candlelit evening dinners with the glowing fireplace in the background. Our aesthetic aligns with a traditional style mixed with transitional accents. A plush striped area rug anchors the room, and a long rectangular table seats eight guests comfortably. An oversized chandelier twinkles overhead, complementing the grand proportions of the dining table.
Pops of autumn orange and ginger lend color to this sun-drenched space, along with green foliage and white flowers for a feminine touch. Woven placemats befit the rustic bare wood table juxtaposed with dainty French-style dining chairs. Embroidered lace-trimmed napkins bring a vintage look that's especially appealing for
daytime entertaining.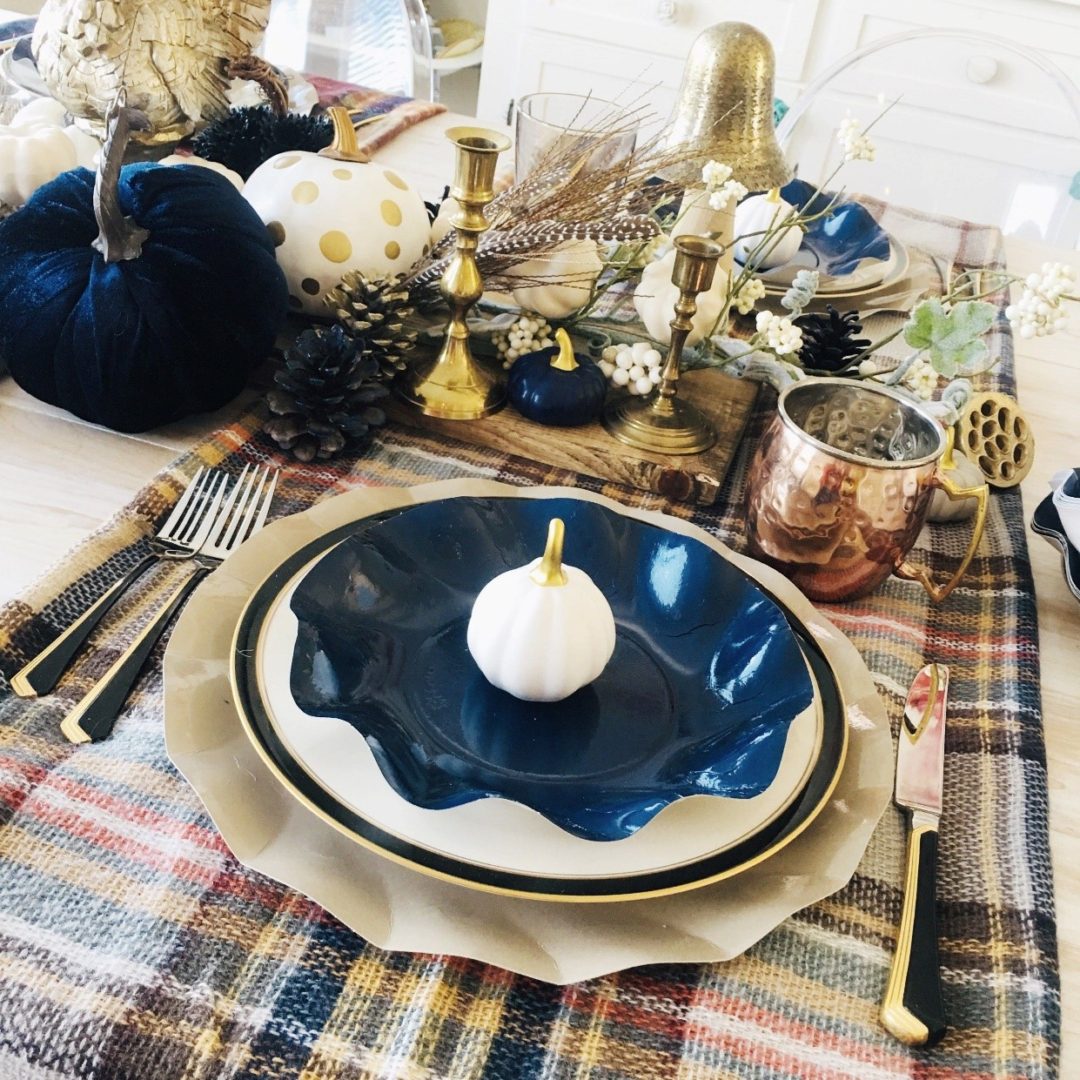 Rich jewel tones give this tablescape a warm autumn aesthetic, with plaid table runners accented with splashes of deep midnight blue and glimmers of gold. White pumpkins dazzle against sapphire platters at each place setting, and plush blue velvet pumpkins create a dramatic centerpiece. Hints of gold and copper bring a lustrous finish to the design.
 Tout your calligraphy skills with handwritten place cards laced with sprigs of greenery for a simple touch of elegance. Your guests will love to take them home as mementos of this special occasion.  
Memorable Moments are what make holidays meaningful. No matter your style, creating special memories at your Thanksgiving table should always be the goal. Cherished time spent with loved ones, after all, is the most important part of the celebration. From all of us at Interior Enhancement Group, may your Thanksgiving holiday be filled with love and joy. Cheers!
Kelly, Elizabeth, Ashley, Caren, and Hope
https://interiorenhancementgroup.com/wp-content/uploads/2023/11/Causual-Elegance-Page-7.jpg
1033
1549
Kelly Guinaugh
https://interiorenhancementgroup.com/wp-content/uploads/2021/04/Interior-Enhancement-Group-est2020-630.png
Kelly Guinaugh
2023-11-07 15:33:28
2023-11-07 15:33:28
Giving Thanks: Your Home, Your Style