New Beginnings: The Delicate Dance of Combining Homes in a Second Marriage
Few things are as beautifully hopeful and thrilling as a new beginning, especially when you're over 50. For a couple starting over later in life, our goal was to bring their lifestyles, design aesthetics, and dreams together to create a home that is perfect for both of them while keeping memories from their pasts in the mix. This isn't always as easy as it sounds. Like all healthy relationships, there are disagreements—even arguments—and, of course, compromise.
For this project, designing to our clients' mutual tastes was top priority. I learned that in second marriages/relationships, combining homes can be a delicate dance due to varying design preferences as well as emotional holds on the past. In this instance, our clients are a divorcee and a widower. When they fell in love, they purchased a gorgeous property in Barrington Hills, IL, where they plan to spend most of their time when not wintering on their boat off the gulf coast of Florida.
TO PURGE OR NOT TO PURGE
Our couple had varying tastes, and when you have both designed and furnished homes before, you have very specific ideas of what you like and what you think is best. As a widow myself, I had a unique understanding of what he was going through, and as a female, I also understood the feelings she was experiencing.  He had a long life with his wife and still had many things in his home to sort through and decide on. It was not a painless process and was naturally hard on him. She, on the other hand, found it easier to purge and had done most of this after her divorce. Getting rid of things can be tricky when there are emotions attached. Quite frankly, in a divorce, one often cannot wait to be rid of the memories, whereas when our spouse has passed away, we can almost feel guilty if we dispose of items we collected with them.
COMING TOGETHER
After the purging process, the clients' home started to come together piece by piece in the most natural way. They decided to keep his beloved books, travel mementos, and collection of watercolor artwork acquired from various travels—most of them boat scenes.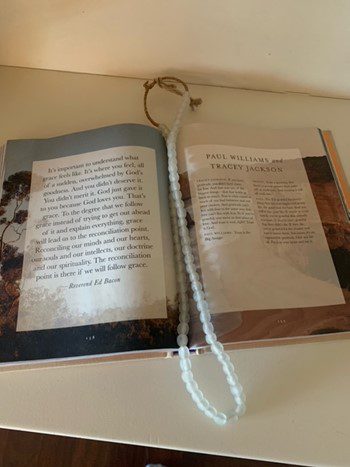 One of their most special keepsakes is Oprah's Super Soul Sunday book, which always sits open to a passage about grace that the couple believes was a personal message to them. This book sat closed on his coffee table, and she had picked it up early in their relationship and somehow immediately turned to this page. It struck both of them that they had been rescued by the grace of God and found each other.  The dynamics of this and how they both viewed their old lives was challenging terrain at times. So, this passage told them just to accept the grace they were given and not fight against it. And the weaving of their new lives together began to take shape, and every year, they got better and better at navigating.
EMBRACING THE TERRAIN
The couple admits the house is a bit large for just the two of them. But they wanted a lot of land and now have five acres. They love that it's horse country and that the deer often roam into their yard if the dogs aren't out. The dogs also love to roam and chase the deer. They are surrounded by gorgeous mature trees, woods, and privacy—which they both relish.
They decided on this location also because it's close to his daughter, who just had a baby a year and a half ago. Plus, her son and his new wife plan to move and raise their family somewhere near Barrington in the next couple of years.
Their new home has inspired the couple to entertain often for family get-togethers and dinner parties with friends. They are even planning their backyard wedding here in September. They love that their families and friends will all be here at their favorite place to witness them getting married.
CIRCLE OF FRIENDSHIP
We arranged the chairs in a circle for the living room to create a warm and convivial atmosphere. This has become the couple's favorite place to bring friends while enjoying the fireplace and the spectacular outdoor views. The homeowner expressed she felt this circle is where friendships form and deeper bonds are made. The couple retreats to this room in the early evenings to catch up from their day, then move to the kitchen, the casual dining area, and end their evenings in the great room. It's wonderful that they love and experience each room nearly every day.
MEANINGFUL KEEPSAKES
The couple agreed to keep a grandfather clock, which was the his first big purchase during his youth. It's very sentimental, and they both love listening to it chime. I suggested we have it lacquered in a saturated blue paint color. It might have been a little difficult for him to think about covering the original patina, but this is an area where he compromised. It turned out beautifully and became theirs. Further proof that it's always good to listen to your designer!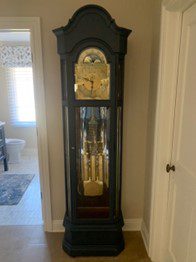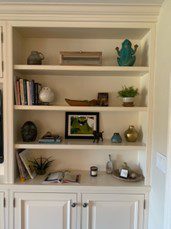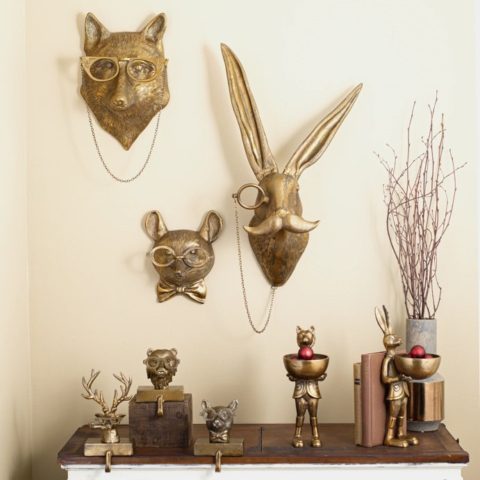 She loves unmatched, quirky accessories, so we worked together to use some of her favorite things, many of which are artfully placed on the shelf in their family room. She collects playful bronzed pieces from the Eric + Eloise Storybook Collection and has sprinkled them throughout their home. They also wanted to mix in some things they had bought together or have become meaningful to both of them. She is ultimately in charge of accessorizing and does that more to suit her taste, but he doesn't seem to mind and even likes most of what she buys.
BREEZY OASIS
Dressed in soft neutrals and shades of blue, the master bedroom offers a blissful retreat for the homeowners. An expansive opening features a Juliette balcony with sliding doors and sweeping views of the lush, wooded landscape. In lieu of table lamps, glass pendant lights hang elegantly over matching bedside chests creating optimal surface space.
A ROOM OF ONE'S OWN
The couple decided to keep a bit more of his furniture for their new home, including the study, guest rooms, and lower-level sectional and case good pieces. She had a smaller home, so she had already downsized. Much of her furniture had been sold or given away, with the exception of a few pieces that are now in their "bonus room" upstairs. This is to become her own space, and she wants it to feel like a little studio with an extra guest bed. She plans to include lots of pictures of her children, so the room feels extra special to her. The couple has also started a collection of new photos to go in their family room, along with photos of their travel adventures together. And their new grandson will surely be featured big-time on this wall space.
SIMPLY LUXURIOUS
Backdropped by a large window boasting glorious views of the landscape, a luxurious soaking tub takes center stage on an elevated marble platform. Positioned underneath a skylight that offers splendid moon and star gazing opportunities, the quiet bathroom cove is illuminated with a pristine white chandelier with dimmable options for any mood.
SOFTLY SERENE
Just a step down from the soaking tub, his and hers vanities offer abundant storage and countertop space for all the bathroom essentials. Beautiful sconces, mirrors, and hardware unify the look, and a trio of white cabinet towers offers both closed and open storage options. Mirrored cabinetry on the left tower provides another reflective element for this luminous space. A fluffy sheepskin rug makes a luxurious statement piece and feels fabulous underfoot.
A HAPPY ENDING
The best compliment our happy clients received was when their very first guests expressed how welcoming their home was to visit. Mission accomplished! As this fun-loving couple travels, they will collect special pieces and artwork that will continue to make their new home the perfect reflection of them. They truly were a wonderful couple to get to know, work with, and learn together with. Plus, we have now become friends.
https://interiorenhancementgroup.com/wp-content/uploads/2023/03/DSC7341-Edit.jpg
2048
1927
Kelly Guinaugh
https://interiorenhancementgroup.com/wp-content/uploads/2021/04/Interior-Enhancement-Group-est2020-630.png
Kelly Guinaugh
2023-03-13 18:37:46
2023-03-16 09:38:02
New Beginnings: The Delicate Dance of Combining Homes in a Second Marriage