Add Warmth to Your Home With a Fireplace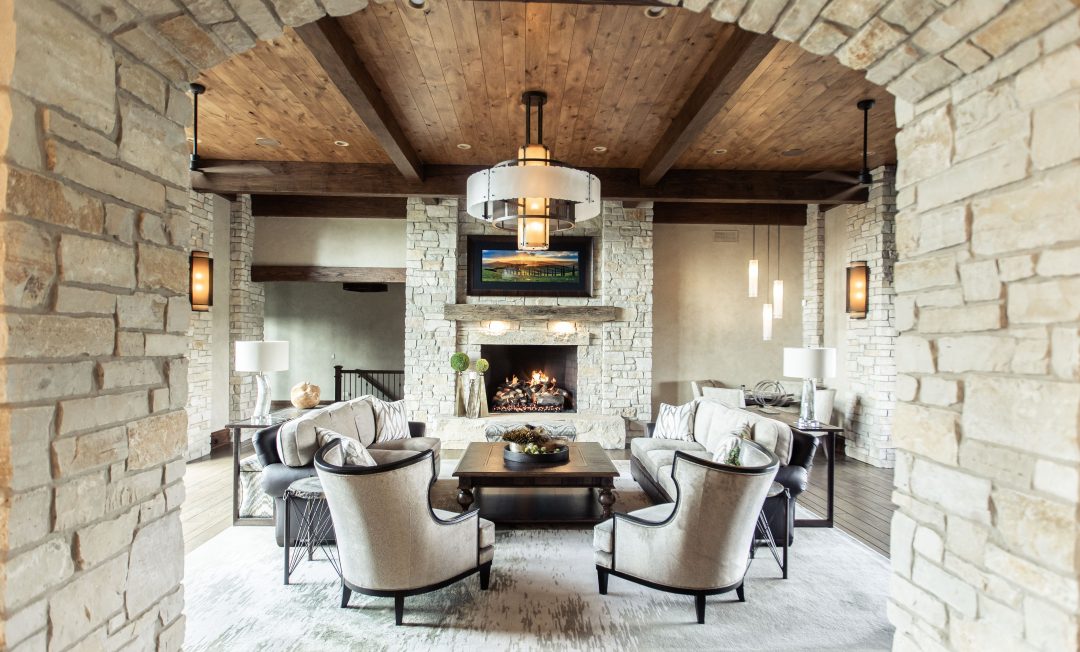 Did you know that sitting by a blazing fire on a cold winter's evening lowers your blood pressure? I discovered that healthy tidbit in this Huffington Post article by Carolyn Gregoire: EvolutionaryReasonWeLoveFireplaces.  Carolyn says the answer may lie in our evolution, dating back to  prehistoric times, when people gathered around a fire to stay warm, cook food and socialize. Hundreds of thousands of years later, people still love to relax in front of a fireplace for similar reasons, though most of us don't cook food in our fireplaces! For me, fireplaces always bring to mind cozy, lazy evenings chatting with loved ones, enjoying a glass of wine or hot chocolate in front of the dancing flames.
Fireplaces Boost Home Values
Because fireplaces are so popular, they increase a home's value as well. A 2016 Angie's List survey Popular-home-updates-that-are-worth-the-money of real estate agents in the U.S. – revealed that more than 83 percent of agents believe a fireplace can add up to $5,000 to a home's value.
Six Fireplaces, Six Designs
My team and I had the opportunity to design six fireplaces for suburban Chicago clients who were not only updating their home but constructing two large additions. These fireplaces truly symbolize their desire for a home that would have the warm, peaceful environment of a retreat for themselves, their two junior high-age children and their extended family and friends. Because they are very generous people, they love to entertain and create a welcoming environment with flickering fires. Our challenge was to give each fireplace a unique look that fits the purpose and tone of its surroundings.
A Rugged Look for the Husband's Library
To differentiate the husband's home office fireplace, above left, we selected a stunning, solid-surface stone slab to place between the ashlar stone columns. The slab, which we discovered at LurveyLandscape  in Volo, has the characteristic grain and well-aged appeal of petrified wood. To unify the look, we used the same stone for the floating hearth. As we did throughout the house, we layered in casually refined elements such as the tufted  leather arm chairs and the taupe and cream, hair-on-hide rug in a geometric pattern from www.loloirugs.com.
A Refined Look for the Wife's Sitting Room
A case in point is the wife's master bedroom sitting room, above right, which she calls her "spiritual retreat." To achieve the feminine, calming atmosphere she desired, we chose ledger stone for the fireplace, which is clean-lined and has a less rugged texture. The soft taupe and grey-blues of the stone "bricks" enhance the delicate feeling while the colors complement the custom grey cabinetry by AbruzzoKitchenandBath.
Taking inspiration from the clients' beautiful wooded property, we chose a large-scale, leaf-and-branch rug from www.davisanddavisrugs.com that contributes pattern, extra warmth and comfort to the room.  To encourage many hours of contemplation and meditation, we chose comfortably cushioned furniture and fabrics from www.kravet.com. One of our client's favorite pieces is the oval ottoman with its gently curving shape and multi-purpose function as a foot rest, table or extra seating.
Channeling a Men's Club
This handsome stone fireplace is a striking contrast against the beautiful fit and finish of full-wall, cherry cabinets in the husband's library. We gave this space the look and feel of a men's club with the masculine details our client visualized for his personal get-away. Among them, leather and striped fabric chairs with nail head detailing from www.taylorking.com, a nail-head studded leather ottoman from www.leathercraft-furniture.com  and a hair-on-hide rug layered over a wool boucle rug, both from www.davisanddavisrugs.com.  The animal hide not only contributes cattle-country ambience but a casual, irregular shape that is pleasing against the precise lines and angles of the cabinetry and coffered ceiling.
For the Lower Level Game Room – a Lodge-like Fireplace
The lower level fireplace looks like it might have been transported from a ski lodge in Aspen or Vail. We chose a steel surround and added columns of naturally aged, reclaimed wood in various lengths and shades of caramel, grey and tan. The river rocks lining the firebox floor are a subtle reference to the rushing streams our clients love when they vacation out West. The black and white pillows flanking the fireplace are actually pods by CRLaine that are designed to sit or lay on in front of the dancing flames.
Ashlar Stone Fireplace References Exterior Stone Finish
For the great room above, we chose the same ashlar stone from the exterior of the house for the fireplace surround and columns to establish a smooth progression from outside to inside. Ashlar is a natural stone finely honed into squared pieces for a more tailored, finished look. I will never forget driving up to Wisconsin with the builder, VandeLogtConstruction, to hand-pick the stone slab for the  hearth and a reclaimed beam for the mantle.  Because these clients love to entertain, we provided extensive seating: a pair of leather and fabric sofas and four chevron ottomans from www.kravet.com, plus two wing-back lounge chairs from www.taylorking.com.
Updating an Existing Fireplace
We think you'll agree that we achieved a fabulous transformation of this fireplace in collaboration with www.doomisbuilders.com.  The  asymmetrical fireplace wall was refaced with white birch ledgerstone from www.tilegallerychicago.com. To update the hearth, we replaced the existing rough, chiseled edge limestone with a smooth eased edge. The result is more subtle and refined, in keeping with the scheme throughout the home, and our clients are delighted.
Ready to update or add a fireplace to your home? Please contact me at 847-705-9569.
https://interiorenhancementgroup.com/wp-content/uploads/2019/10/12-library-Beto-703-Copy.jpg
847
1270
Kelly Guinaugh
https://interiorenhancementgroup.com/wp-content/uploads/2021/04/Interior-Enhancement-Group-est2020-630.png
Kelly Guinaugh
2019-10-29 10:42:48
2020-01-28 12:43:15
Add Warmth to Your Home With a Fireplace